USA Kids Camp is an action-packed way to keep your kids active over the summer and holiday breaks!
We offer full day and half day camps for all kids ages 5 – 12 years old at both our Gilbert and Queen Creek gym locations.
SPRING
SUMMER
FALL
WINTER
SINGLE DAY HOLIDAYS*
(*MLK Day, President's Day, Labor Day and Veteran's Day. Holiday Camps are Full Day enrollments only.)
All camps are planned with daily nonstop activities for a fun time in the gym. Your kids will meet new friends while staying active and having a blast here at USA gym! Camp includes a variety of activities throughout the day and week like:
Group games
Special guests
Crafts
Open gym
Weekly themes
Trampoline
Dance
Foam pits
Dress up days
And much more fun!
Fundamental gymnastics rotations
Contests
Prizes
Obstacle courses
Special Info:
-Select Location Preferred Before Registering for Camp (Gilbert or Queen Creek).
-Full Day Campers need to bring their lunch or purchase a boxed lunch from USA Café for $4.50 + tax. Boxed lunches include: PB&J, Turkey & Cheese sandwich, or Ham or Turkey Lunchable + fruit, juice, string cheese & treat.
-There is a $50 non-refundable deposit per child, which holds a spot for the child. The balance is due the Monday of camp week (final payments will be taken from the account on file, if not paid Monday morning). There will be NO REFUNDS of camp tuition, beginning Monday of camp week.
-Early drop off & Late pick up options available for an additional charge per child, per session.
–Sibling and Multi-week discounts offered for a full week of camp only! Sibling Discount: $25 off Full Day/Full Week or $10 off Half Day/Full Week for 2nd+ child.  Multi-Week Discount: $10 off Full Day/Full Week or $5 off Half Day/Full Week for 2nd+ weeks of camp.
2021 Camp Dates

MLK Day Camp
Single Day
January 18th
Presidents' Day Camp
Single Day
February 15th
Spring Camp
2 Weeks
March 8th-12th & March 15th – 19th
Summer Camp
9 Weeks
May 31st – July 30th
Fall Camp
2 Weeks
September 27th – October 8th
Labor Day Camp
Single Day
September 6th
Veterans' Day Camp
Single day
November 11th
Winter Camp
2 Weeks
December 20th – 23rd & December 27th – 30th
Camp Details
Monday – Friday
AM Day Camp: 9am-12pm
Full Day Camp: 9am-3:30pm
Early Drop-off: 6:30-9am
Late Pick-up: 3:30-6pm
Gilbert & Queen Creek locations
Starting at $35/session
*Ensure you select your preferred location in the top right on the registration portal.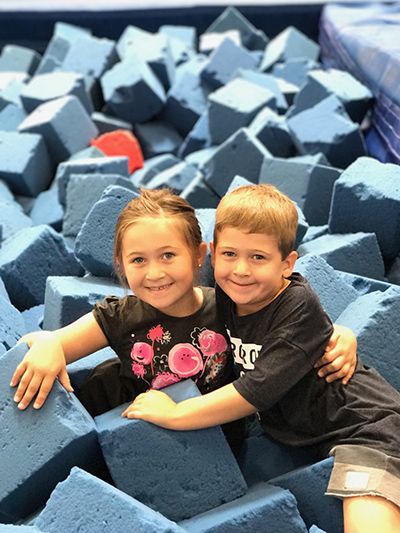 "I love that my kids can go here and burn energy while learning to be healthy." -Crystal P.
WEEKLY RATES

Early registration

(Online by Fri 8pm before camp week)

WEEKLY RATES

Late registration

(Online after Fri 8pm before camp week)

DAILY RATES

Early registration

(Online by Fri 8pm before camp week)

DAILY RATES

Late registration

(Online after Fri 8pm before camp week)

$210 – Full-day Camp

$230 – Full-day Camp

$55 – Full-day Camp

$65 – Full-day Camp

$125 – Half-day Camp

$135 – Half-day Camp

$35 – Half-day Camp

$40 – Half-day Camp

$30 – Early Drop-off Camp

$40 – Early Drop-off Camp

$7.50 – Early Drop-off Camp

$10 – Early Drop-off Camp

$30 – Late Pick-up Camp

$40 – Late Pick-up Camp

$7.50 – Late Pick-up Camp

$10 – Late Pick-up Camp